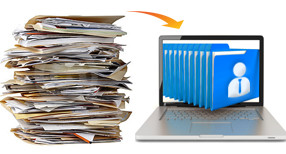 Can you do without paper in your office?
by Ona Charles Kaobo (174 views)
23/05/2019
Getting rid of paper in your office is what you probably believe you can do when you are ready. But will you ever be ready? How long have you procrastinated about it? And just like New Year resolutions, you simply don't and time keeps flying. If you have not started thinking in that direction, I hope I'm able to convince you. This short piece is targeted at small startups especially lean startups providing goods and services to their immediate community.
My objective is to provide information that will help them carryout their daily activities smarter and faster - powering their businesses with ICT. Sysmax Technologies started out with paper based record keeping but today, we hardly use paper for anything. Smarter and Faster I don't need to bother you with the drawbacks of paper based system of record keeping. You already know. But for me, it's about two words; smarter and faster.
It sucks opening file after file just to look for a paragraph of information in shelf 4, box 19, file 9, page 31, paragraph 11, and line 2. I'd rather put on my device and type a word(s) in paragraph 11, line 2. Yes, that save my time and I think that's smarter. Did you know? You've probably heard this before, information in an entire office building can be kept on top of a table in a PC. It's even better now, it can be held in your palm or may be your wrist as long as it's in digital format. You can also carry it wherever you go – with mobile devices all over the place and fast internet-powered devices gradually reaching those in rural communities.
Decision-making: Who doesn't want to have everything at one's disposal for quality decision-making? Again, I don't need to tell you access to information facilitates that, as the last dumbest decision you took, if you recall, I bet you do, was as a result of not having all the facts and in the right volume and quality.
Getting Started:
1. Identify all processes and activities in your office and all corresponding records
2. Identify roles by all team members both as individuals and groups and get them involved
3. Consult an expert to guide you on specific tools or software solutions suitable for your needs
4. Start gradually. Your team Carry your team along clearly articulating the objective and state them in terms of how it will benefit them and the organization.
A good objective may be:
1. To reduce their work load (fast)
2. To make them work more effectively and efficiently (smart) If you have a large team, I recommend you set up a committee of 3 charged with the responsibility of studying the company's paper record usage and making recommendations for management consideration. The study should cover cost incurred and time spent on the old (paper-based) and how the new system eliminate those challenges. Transition "Out with the old, in with the new" holds true but may not serve your exact need here. You may wish to plan the transition in phases to enable acceptance/tolerance as the case may be. Some people recommend you start with your most critical records, others prefer trivial, yet others would want you to start from a particular department. Another category would rather you digitize all old records before going live.
Whichever option you choose, please consider the following questions;
1. Your team:
a. What's the buy-in from your team like?
b. Are they computer literate/tolerant?
c. How much will the new system disrupt their daily activities?
d. Who takes responsibility?
2. Software:
a. Are you getting a custom software?
b. Are you integrating it a software currently in use?
c. Are you buying one with all the features you need?
3. Hardware and Network:
a. How many computers, scanners, internet devices, etc. will I need versus can I afford?
b. Will your current hardware serve?
c. Will the network be internet or intranet-powered You will also need to update your disaster recovery/management plan to accommodate the new digital record management system.
Feeling Good?
This is a laudable idea, my team will key into it, things will work smoothly, and all record related hassles will come to an end. Uhn….I hate sounding like a pessimist, and any sentence that starts with "well" they say fails the optimist test, but well, it may not quite work that way. Your budget may be overshot, your team may frustrate it deliberately or for lack of understanding of the new system, important resources out of your control like; hardware, network, internet, etc. may fail.
Facing Challenges and Setbacks are only about what they are - setbacks. If things don't go as planned, my candid advice is to look at each issue and respond accordingly having in your mind that there is much more to gain when things normalize.
Conclusion:
As I said earlier, At Sysmax Technologies Limited, we hardly use paper for anything but it wasn't like this some months ago. Customers would call about an issue and as long as I was not in the office to look at their file, it will be difficult to attend to them. It was more difficult with leads as I could not know initial conversation of our marketers with them. These and many more reasons forced me into driving the company is the direction of eliminating paper-work in our 3 offices.
Now at a glance, I can see all customer appointments and communication with leads, work plans and work done daily, staff records, payments, products, reports, sales, purchases, documents, etc. all accessible via PC, laptop and mobile. Another interesting thing is that, I can log into multiple branches of Sysmax assign staff to various responsibilities and manage their records independent of other branches. Thanks to www.swift.ng a one-box office solution for businesses. It is free and you can try it out. Feel free to comment and share this piece.
---
---