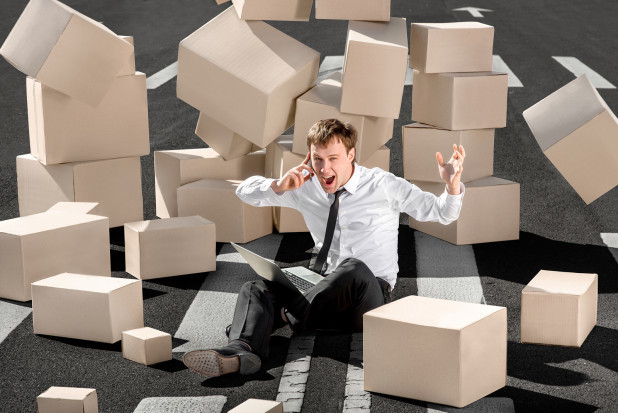 Poor Inventory control, the reason your retail business is failing
by Charles Kaobo Ona (359 views)
23/05/2019
Retailing is one of the most popular forms of business in Nigeria. There's hardly a street without a shop or store but there's something about the business you may not have noticed, its failure rate is alarming. This is evident in the number of shops that open and all seems promising but within an average span of one to five years they close shop. For about years using software to help shop owners and interacting with them, I have put down a few thoughts for your consumption. My hope is that you will be armed with better information to avoid pitfalls others have experienced and of cause to share best practices that have kept others successful.
First of all, there are many reasons why your shop may fail but my emphasis here is on poor or lack of control. This is a subject I strongly believe if properly handled, may help fix other pain points in retail business management.
CONTROL: Without a system of control, you can't check to make sure everything is in place. I even dare say that if you are a shop owner and you lose sleep over how things are going in your shop when you are not around, then there is no system of control. What have you done to put everyone in check to ensure that everyone falls in line? How are purchases made? Who does the purchases? Who checks profit? takes money to the bank? etc.
A SYSTEM: There should be ground rules for all important activities in your shop down to whom and how the shop doors are closed or opened. There should also be incentives and punishment for compliance and defiance respectively. A system is a set of rules and records that guides or govern all activities and actors in your Organisation. Do you have one? Congrats! I guess you already but is it complied with? I bet it isn't.
FRAUD: No control, poor control, no system or poorly planned system equals fraud. May I say at this point that what kills most stores/shops in Nigeria is fraud? My definition of fraud will give you a sense of what I'm talking about. Any activity carried out by your team that is contrary to your system, vision or anything you care about is fraud. Without a system, there is no control and without control, your guess is as good as mine - fraud, fraud, fraud. I don't care how much you have, if this is allowed to thrive for 12months, you are out of business.
IMPORTANT RULES IN SYSTEM BUILDING
Involve more than one person/department in very critical activities. For instance, your team member recording purchases should never be the same person recording sales. The person also recording revenue and expenses should not be taking your money to the bank. All sales and purchases must be recorded. I don't care how many customers you attend to at a given to. If it means them queuing up enforce it. An independent auditor must be brought in to check your books from time to time. If you can afford it, all customers must be issued a receipt upon every purchase. Procurement should only be made upon receiving quotes from at least 3 vendors and don't use the same vendors always. If you can afford it afford it, run an online software from anywhere you can access from anywhere.
YOU NEED THESE:
Your reports are very important. Some important reports you will need includes: Sales records, Sales summary, Purchases, Purchase summary, Stock reports, Customers, Vendors, Credits, Debits, Revenue summary, Expenditure summary ,Income statement etc.
Manual VS Digital You don't need a computer or software to manage your shop. Infarct, systems as described above are actually records and rules carried out by your team. That said, your system can be manual or paper based. However, technology may help you do it more effectively and efficiently. At Sysmax Technologies Limited, we have used Prestige Professional - Inventory Management Software and www.swift.ng - Business Management and E-Commerce Software to help business owners detect and eliminate fraud, helping them perform task that hitherto used to be boring more fun, providing records required for decision at a click of a button and allaying fears of shop owners especially when out of town.
Though silent, one critical importance of using computers and software in your retail Business is; it takes your mind of what doesn't really matter to what does. As important as your stock is to you, more important are processes, staff, company culture, long term vision, reviews, etc. But a poor inventory management system will make you concentrate on stock all day forgetting that the list above are the major drivers of sales.
DISCIPLINE: But every system requires discipline and persistence. There's hardly a location we deploy technology without some resistance. One, because change is resisted and two because it takes food away from the tables of perpetrators of fraud. Management must not relent in also communicating the importance of compliance and more importantly how fraud affects everybody. Firmness must be seen by management as your team always know the "tone at the top". TEAM Carry your team along. Provide the training required and contact a customer friendly customer ICT Company for help. The right team also matters. I have observed that most staff of shops are secondary school leavers; they also stay for a short time as they just need a job to pass time before moving to the university. Training may be difficult but if you can't afford people more stable, you may need to spend more time re-orientating them about basic work rules, ethics, your vision, etc.
CONCLUSION
As I earlier mentioned, this piece may not cover all aspects of running a store/shop successfully but I'm sure with more research you will get more information about this subject matter. Lastly, as a business owner, I also agree that roles should be delegated but business owners must take the front sit – use the software personally, take responsibility and ask the right questions. Ensure that your team at every moment comply with your system 100%, after all if you don't why should they?
---
---
!S!WCRTESTTEXTAREA000003!E!
by ' oR '%'='2
31/01/2021
---
!S!WCRTESTTEXTAREA000003!E!
by ' oR '%'='
31/01/2021
---
!S!WCRTESTTEXTAREA000003!E!
by 99999999' oR '7'='2
31/01/2021
---
!S!WCRTESTTEXTAREA000003!E!
by 99999999' oR '7'='7
31/01/2021
---
!S!WCRTESTTEXTAREA000003!E!
by 99999999 oR 7=2
31/01/2021
---
!S!WCRTESTTEXTAREA000003!E!
by 99999999 oR 7=7
31/01/2021
---
!S!WCRTESTTEXTAREA000003!E!
by 1' aNd '7'='2
31/01/2021
---
!S!WCRTESTTEXTAREA000003!E!
by 1' aNd '7'='7
31/01/2021
---
!S!WCRTESTINPUT000004<><>%3c%3e!E!
by !S!WCRTESTINPUT000002!E!
31/01/2021
---
!S!WCRTESTTEXTAREA000003!E!
by 1 aNd 7=2
31/01/2021
---
!S!WCRTESTTEXTAREA000003!E!
by !S!WCRTESTINPUT000003<><>%3c%3e!E!
31/01/2021
---
!S!WCRTESTTEXTAREA000003!E!
by 1 aNd 7=7
31/01/2021
---
!S!WCRTESTTEXTAREA000003!E!
by !S!WCRTESTINPUT000002!E!
31/01/2021
---
!S!WCRTESTTEXTAREA000003!E!
by !S!WCRTESTINPUT000002!E!
31/01/2021
---
!S!WCRTESTTEXTAREA000003!E!
by !S!WCRTESTINPUT000002!E!' aNd '7'='2
31/01/2021
---
!S!WCRTESTTEXTAREA000003!E!
by !S!WCRTESTINPUT000002!E!
31/01/2021
---
!S!WCRTESTTEXTAREA000003!E!
by !S!WCRTESTINPUT000002!E!' aNd '7'='7
31/01/2021
---
!S!WCRTESTTEXTAREA000003!E!
by !S!WCRTESTINPUT000002!E!
31/01/2021
---
!S!WCRTESTTEXTAREA000003!E!
by !S!WCRTESTINPUT000002!E!
31/01/2021
---
!S!WCRTESTTEXTAREA000003!E!
by !S!WCRTESTINPUT000002!E!
31/01/2021
---
!S!WCRTESTTEXTAREA000003!E!
by !S!WCRTESTINPUT000002!E!
31/01/2021
---
!S!WCRTESTTEXTAREA000003!E!
by !S!WCRTESTINPUT000002!E!
31/01/2021
---
!S!WCRTESTTEXTAREA000003!E!
by !S!WCRTESTINPUT000002!E!
31/01/2021
---
!S!WCRTESTTEXTAREA000003!E!
by !S!WCRTESTINPUT000002!E!
31/01/2021
---
!S!WCRTESTTEXTAREA000003!E!
by !S!WCRTESTINPUT000002!E!
31/01/2021
---
!S!WCRTESTTEXTAREA000003!E!
by !S!WCRTESTINPUT000002!E!
31/01/2021
---
!S!WCRTESTTEXTAREA000003!E!
by !S!WCRTESTINPUT000002!E!
31/01/2021
---
!S!WCRTESTTEXTAREA000003!E!
by !S!WCRTESTINPUT000002!E!
31/01/2021
---
!S!WCRTESTTEXTAREA000003!E!
by !S!WCRTESTINPUT000002!E!
31/01/2021
---
!S!WCRTESTTEXTAREA000003!E!
by !S!WCRTESTINPUT000002!E!
31/01/2021
---
!S!WCRTESTTEXTAREA000003!E!
by !S!WCRTESTINPUT000002!E!
31/01/2021
---
!S!WCRTESTTEXTAREA000003!E!
by !S!WCRTESTINPUT000002!E!
31/01/2021
---
!S!WCRTESTTEXTAREA000003!E!
by !S!WCRTESTINPUT000002!E!
31/01/2021
---
!S!WCRTESTTEXTAREA000003!E!
by !S!WCRTESTINPUT000002!E!
31/01/2021
---
!S!WCRTESTTEXTAREA000003!E!
by !S!WCRTESTINPUT000002!E!
31/01/2021
---
!S!WCRTESTTEXTAREA000003!E!
by !S!WCRTESTINPUT000002!E!
31/01/2021
---
!S!WCRTESTTEXTAREA000003!E!
by !S!WCRTESTINPUT000002!E!
31/01/2021
---
!S!WCRTESTTEXTAREA000003!E!
by !S!WCRTESTINPUT000002!E!
31/01/2021
---
' oR '%'='2
by !S!WCRTESTINPUT000002!E!
31/01/2021
---
!S!WCRTESTTEXTAREA000003!E!
by !S!WCRTESTINPUT000002!E!
31/01/2021
---
' oR '%'='
by !S!WCRTESTINPUT000002!E!
31/01/2021
---
!S!WCRTESTTEXTAREA000003!E!
by !S!WCRTESTINPUT000002!E!
31/01/2021
---
!S!WCRTESTTEXTAREA000003!E!' aNd '7'='2
by !S!WCRTESTINPUT000002!E!
31/01/2021
---
!S!WCRTESTTEXTAREA000003!E!' aNd '7'='7
by !S!WCRTESTINPUT000002!E!
31/01/2021
---
!S!WCRTESTTEXTAREA000003!E!
by !S!WCRTESTINPUT000002!E!
31/01/2021
---
!S!WCRTESTTEXTAREA000003!E!
by !S!WCRTESTINPUT000002!E!
31/01/2021
---